Pet trainers and obedience professionals have been proven to make a world of difference with countless furry hellraisers. There are cases, however, where it takes more to get into the mind of a pet and make a meaningful behavior transformation.
It's a simple concept, but getting to the root problem of a pet's unusual animal behaviors could be tricky. Christine Fox, of Wag 'N' Tails, knows a thing or two about that. Her business offers training and group obedience classes at its Shelby Township location. But when she sets out to meet a new client for a private behavior consolation — perhaps because the animal could be anxious, overstimulated or even aggressive in a group class setting — she gives pet parents a bit of their own homework.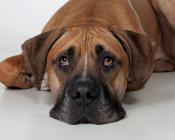 "I give clients a detailed questionnaire because it kind of enables me to get into the head of the dog and get a feeling of where the dog is coming from," said Fox. "Because I don't live with the client, I ask a long series of questions to get to know the client's routine and how it involves the dog."
Sometimes, after finding out a bit more about that routine, she gets to work. She'll decide whether she thinks the problem is with obedience or behavior — and, boy, is there a difference — and she employs training and counseling afterward to that end. Yes, counseling. Just like their owners, pets might be acting out because of an emotional issue.
To read more visit the full article featured on C & G News in Metro Detroit here.