At Wag 'N' Tails, we offer a full line of luxurious bathing products and grooming services to ensure that every furry guest looks and feels Pawfect! Our state-of-the-art Grooming Salon is staffed with professional pet stylists who are also dog trainers! They will not only make your pet look fabulous, but they also will take extra care to ensure that your pet is at ease throughout the process. We offer services from breed cuts and puppy trims to luxurious coat treatments, aromatherapy sessions and unique facials. Feathered tail, or trimmed? Scissored or shaved? So many options!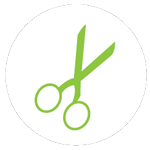 Whether you have a show dog or just want him/her to feel like one, talk with our grooming staff about your needs. Each dog can have so many different "looks" that it is essential to describe and discuss with our grooming staff what you are looking for. A "poodle-type" cut to one dog could be very different to another! Feel free to bring in pictures – humans do this for their hair cuts, why not dogs? It's so important to communicate with your pet stylist so that we can create the look you desire for your pet. Just as essential as letting us know what you'd like, if your dog's hair cut is not what you expected, is it imperative that our staff know so we can make the essential notes and changes for their next spa day.
Personalized Spa Services
Our personalized services include the following:
Economy Package – The Standard Bath, Brush and Dry (No nail clipping or ear cleaning included.)
Small Dogs (1-25lbs.) $20
Medium Dogs (26-40lbs.) $30
Large Dogs (41-90lbs.) $35
X-Large Dogs (91lbs and up) $45
Basic Package – Includes bath, dry, brush out, nails, and ears.
Small Dogs (1-25lbs.) $25
Medium Dogs (26-40lbs.) $35
Large Dogs (41-90lbs.) $40
X-Large Dogs (91lbs and up) $50
Deluxe Package – Includes bath, dry, brush out, nails, ear plucking, ear cleaning, anal gland expression,and a Face, Feet, Fanny trim.
Small Dogs (1-25lbs.) $35
Medium Dogs (26-40lbs.) $45
Large Dogs (41-90lbs.) $55
X-Large Dogs (91lbs and up) $65
Ultimate Package – Includes bath, dry, brush out, nails, ear plucking, ear cleaning, anal gland expression, and the haircut. (This is the equivalent to what we used to call a full groom.)
Small Dogs (1-25lbs.) $45
Medium Dogs (26-40lbs.) $55
Large Dogs (41-90lbs.) $65
X-Large Dogs (91lbs and up) $75
Add Ons – (These services are added on to the packages above).
De-Shedding $20
De-Matting $10-20
Anal Glands $10
Dremel Nail Trim $10
Teeth Brushing $5
Whisker Trim $5
Designer Cologne $1
Specialty Bandana $2
A La Carte – (These items can be requested when your pet is here for daycare or boarding.)
Dremel Nail Trim $15
Teeth Brushing $10
Comb-Out $15
Whisker Trim $5
The Pampered Puppy $45
Perfect for the first ever professional groom experience. First visit is the "get to know you!" Second visit it's time to introduce the grooming table and equipment, third visit is the first real bubble bath and trim! This package includes the first cut look of hair and a report card to remember their special day!
Behavior Management $15
Did your dog have a negative groom experience elsewhere and they now show signs of being nervous about being groomed? No problem! Our trainers will work with your dog to associate grooming with a "paw"sitive experience. Our groomers are also dog trainers and behaviorists. For this small additional fee our experienced staff will take the time needed to modify these fears using behavior modification techniques. Let's work together to ensure that your dog looks forward to the spa experience…not dread it!
The Planner Package 10% Off
So many pet parents plan their pets trip to the spa in advance. Schedule standing appointments six weeks apart and save! Plus your pup is extra special when they receive the "Groomagram!" filled with great grooming tips and advice!
Comb Out $15
Ok…let's face it! Some breeds are just "high maintenance!" It seems no matter how much you brush, your dog still tends to get those nasty knots in the hair around the collar, rear and shoulder areas. Bring in your dog for this comb out service and let us help you! This service will allow you to keep your long haired dog fuzzy and prevent having to be shaved due to extreme matting of the hair!
Tip Trip $32
Does your dog have long nails that seem to never stop growing? The Tip Trip includes a trim of the nails every two weeks for a duration of two months. Each visit is pre-scheduled for your convenience. When dogs' nails grow, the vein or "quick" inside of the nail grows with it; when long nails are cut there is only so much of the nail that can be taken off so the quick will not bleed. These pre-scheduled visits will allow your dog's quick to gradually become shorter, allowing your dog's nails to be trimmed to an appropriate and comfortable length.
Please note: Wag 'N' Tails does not offer bathing services to remove skunk odor or treat fleas.
Please Note: We do require that all health requirements be fulfilled for any dog using our grooming spa. Please check the "What's Required" page of our website to verify your dog meets all requirements.
We offer Calming Touch Massage Therapy