Our Bark 'N' Burn Exercise Class for dogs
Featuring FitPAWS Canine Conditioning Equipment
Wag 'N' Tails Dog Activity Center is proud to announce that we are the first training school in Michigan to offer an exercise class for pets AND people! Join so many other active pet lovers who have seen the benefits of working out WITH their pets. This type of program was recently featured on the Today Show and Good Morning America and is growing in popularity in major cities across the US!
Christine Fox, Certified Dog Trainer has teamed with Personal Trainer, Sheila Berrios to offer a one of a kind tailored exercise class for you and your dog! Combined they have over 20 years experience and are thrilled to bring you this cutting edge program! Relieve stress, anxiety and boredom for your dog while you tone up and burn calories!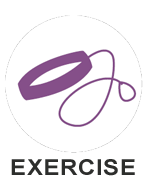 What To Bring:
Water Bottle
Treats & Bait Bag
Regular Leash (No Retractables)
Comfortable Clothes & Tennis Shoes
Four week course, one hour sessions. Course Fee: $99. Pre-registration is required.
FitPAWS® Canine Conditioning Equipment can be used by our four-legged friends for core strengthening, increased range of motion and flexibility, neuromuscular facilitation, sensory and perceptual stimulation, joint alignment, and balance control. Whether your dog is involved in agility, dock jumping, other dog sports, or is a working dog or a couch potato with healthier aspirations, core strength is a fundamental element used by your dog to control its body when jumping, turning, running and to help prevent injuries.
Get the edge over the competition with NEW FitPAWS Canine Conditioning Equipment! Core conditioning is an essential part of any athletes training program, including the performance dog. If your dog participates in agility competitions, you'll want to make sure your dog is in prime physical condition. Once on top of the FitPAWS conditioning equipment, your dog's body will automatically react to the shifting movement, causing your dog to use different muscle groups simultaneously in order to remain upright. Adding this strengthening activity to your dog's cross-training activities 3-4 times a week, has many benefits, including:
Improved reaction and control
Increased trunk and core strength
Stabilization of weak areas
Improved balance and proprioception (awareness of the body's position in space)
Increased range of motion in joints & elongation of the muscles
Improved sensory & body awareness

Walk 'N' Train