A tired dog is a well behaved dog!
Our overnight dog boarding provides structured socialization and exercise for your pet. With the use of positive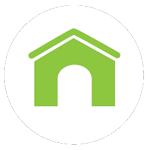 leadership building and an experienced training staff, your dog will learn vital socialization skills, basic manners and they will enjoy learning! Each guest is given individual walks, love, and attention, making their stay more enjoyable. We are a "kennel-free" facility and offer multiple private rooms and other special amenities, keeping our facility "homey!"
Remember to bring something that smells like home and feel free to bring snacks, treats, and toys for your dog!
Our facility includes two indoor activity rooms. Activities include indoor play, a minimum of 6 daily individual outdoor walks, training of basic commands such as come, sit, and heel, snack time, and a rest period daily from 12:00PM to 2:00PM. There are no pick-ups or drop-offs during this time. Dogs can be dropped off for boarding or picked up Monday – Friday from 6:30 AM to 12:00 PM, and again from 2:00PM to 7:00 PM. On Saturday and Sunday, our hours are 7:00AM to 11:00AM and again from 3:00PM to 7:00PM.
Reservations in advance are needed to assist us in providing adequate staff.
In addition, in order to provide the safest environment for dogs under ten pounds, they are accepted, although they are in play areas that account for the needs of extra small dogs.

Boarding Prices
Standard Boarding ………………………….$45 per day
Bedding provided, special labeled bin for belongings, air conditioning. Minimum of six outdoor walks per day, including play and train  program. Report card included.
Puppy Program …………………………..$45 per day
Recommended for dogs up to 6 months of age (owner may request this service for up to one year of age.) The puppy program will provide your pet up to four additional times outside to keep up with the house training and plenty of extra attention including but not limited to confidence building, and prevention of misbehavior exercises. Also, nipping and mouthing is addressed and included in this package.
Clubhouse Boarding ………………………..$50 per day
Everything that is in the Standard Boarding plus an in-door area in our playroom, surrounded by half walls. Includes comfy bedding for napping and an open area for walking around and stretching.
Private Suites ……………………………….$50 per day
These private indoor rooms offer your pet a quiet oasis to get away from all the activity during the day. These suites are for any dog that has a medical issue, older dogs, and well-mannered dogs. Private suites are not available to dogs with any form of anxiety.
Drop Off Day Pricing
6:30AM – 12:00PM… $45
2:00PM – 7:00PM… $37
Pick Up Day Pricing
Before 9:00AM… FREE!
9:00AM – 12:00PM… $25
2:00PM – 7:00 PM… $37
All new clients must call the office for a trial day visit before boarding. Not all dogs are accepted into our programs.