Tellington TTouch is "a system of gentle circular 'TTouches,' lifts, and slides that work at the cellular level to activate the body's potential."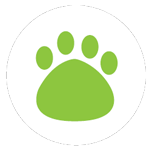 The Tellington TTouch is a specialized approach to the care and training of our dogs and canine animal companions. Developed by internationally recognized animal expert, Linda Tellington-Jones, PhD, this method based on cooperation and respect offers a positive approach to training, can improve performance and health and presents solutions to common behavioral and physical problems. It also helps establish a deeper rapport between humans and animals through increased understanding and more effective communication.
Through this series of 4 classes you will learn some valuable TTouches and reflexology to help relieve your dog of stress and/or pain, as well as learn how to find areas of discomfort on your dog. Strengthen the bond between you and your furry companion as you are taught how to relax them both physically and emotionally. This is an excellent opportunity to learn how to ease the pain of the aging process, and how to calm anxious or fearful behaviors.

Call the office to sign up. Limit 5 students per class. The 4 week class is only $99.00! Wear comfortable/loose clothing. Bring your dog and a blanket or comforter from home, as well as a non-adhesive Ace Bandage (1" wide for small dogs/2" wide for medium dogs)
Learn more about Tellington TTouch                                     We are now carrying Young Living Oils!