Proudly Presents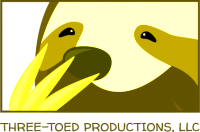 In association with Three-Toed Productions…

*Check out our "Videos/Press" Section or our YouTube Channel to see new episodes of "On The Road!"

My dog is great at home, but has problems elsewhere. Can you help?
We go wherever the road takes us! We can accompany you to the vet's office, to your grooming appointment, to the pet store, to grandma's house, or to the dog park. Wherever you are having problems, we will go!
Who is eligible to enter?
Any dog owner within Macomb county or Oakland county. We are excited to work with you, no matter how big or small your dog's behavioral issue might be! Have a friend or family member who could use our help? Feel free to enter them to win!
How do I win?
Participants are randomly selected each month.
How do I enter?
Click the button above to fill out the pet profile. This will count as your entry and will let us know more about the behavior problems your dog is exhibiting. For those without internet access, we will also be collecting entries in-shop.
*Before services are rendered, participants must sign a media release form acknowledging that Wag 'N' Tails may use the photographs, videotapes, and/or audio recordings from your training session to publish or distribute in such a manner as they deem fit. Due to restictions in scheduling, if you are not available on our designated shooting day, we will have to select a new winner.*
We'll see you on the road!